THE BEST OF THE BEST PRIME RIB TIPS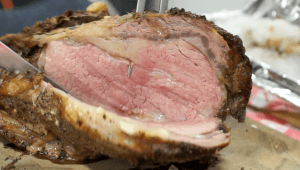 Ever wondered how the chefs cook Prime Rib? We did too:) So we called in Kristen Johnson with Martilla's Kitchen and Co. to come to the our shop and cook up some prime rib. Here are the top 5 tips that will make your roast amazing and a video tutorial as well.
1. Let prime rib come to room temperature 45 min before cooking.
2. Pre-heat oven to 350 (325 convection) degrees.
3. Season and/or dress your roast. (see individual recipes below.)
4. Fill bottom of a roasting pan with ½ – ¾ rock salt; set roast on bed of salt [This was my Grandpa Walt's method, and my dad's recipe.].
5. Cook roast in oven until desired temperature is reached. (see chart below.)
6. Remove from oven, cover and let rest for 15-25 minutes.
Temps + resting
Cook meat 5 degrees below desired temperature, it will continue cooking up to 5 more degrees, to reach desired temperature.
110-115 – rare
120-125 – medium rare
130-135 – medium
140-145 – medium well
150-155 – well done
8 lb – 2-2 ½ hours (15-18 minutes per pound)
5 lb – 1 ½-1 ¾ hours (12-15 minutes per pound)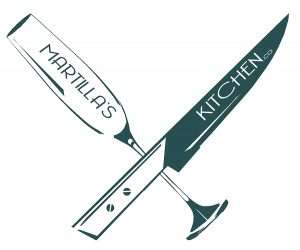 TIPS courtesy of…
Chef Kristin Martilla Johnson
Martilla's Kitchen Co. Civilization begins at the table.
From our family to yours – Happy Holidays and thanks for the amazing year!