Every year our customers ask about Prime Rib cooking tips and we always mention the Food Wishes Prime Rib Method. It's very easy, accurate, and always cooks perfectly pink Prime Rib. Chef John with Food Wishes is one of our favorite culinary teachers online and this video has over 5 million view so far, so we wanted to heat up our oven and give it a test in our kitchen for you. Your oven needs to be able to hit 500 degrees and after a calculated initial sear, you shut off your oven for two hours and don't touch that oven door. Simple and easy every time.
We are showcasing our USDA Choice Prime Rib. For seasoning we used a mix of the granular Rough Cut Rub (from our local B's Rubs) and Montreal Steak Rub with rosemary and thyme in the compound butter. We also sprinkled the buttered roast with kosher salt and more seasoning after we applied the butter. Making the compound butter was lots of fun and you can improvise with whatever seasonings you prefer. Chef John recommends heated plates and also has a video recipe for making Au Jus if want to check it out. From our family to yours we hope you enjoy!
Ingredients:
1 Prime Rib Roast (make sure to keep the weight)
2 sticks of butter
Rosemary
Thyme
Rough Cut (B's Rub)
Montreal Steak Seasoning
Kosher salt
Cell phone (or calculator/timer)
Step 1: Let roast rest at room temp for 6 hours
An important step in this process is to let the roast rest at room temperature for at least 6 hours or overnight to ensure even cooking.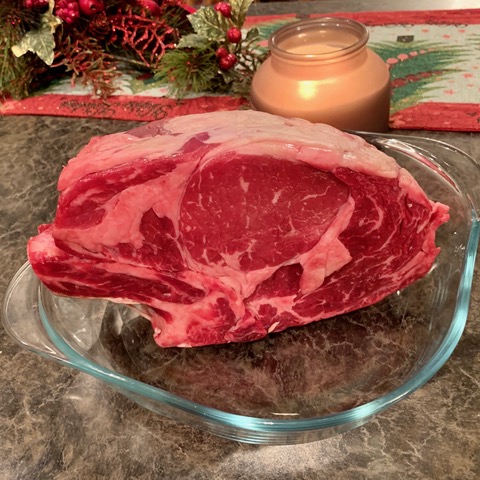 Step 2: Make a compound butter
Mix a seasoned butter to cover the roast and create a delicious crust for your prime rib.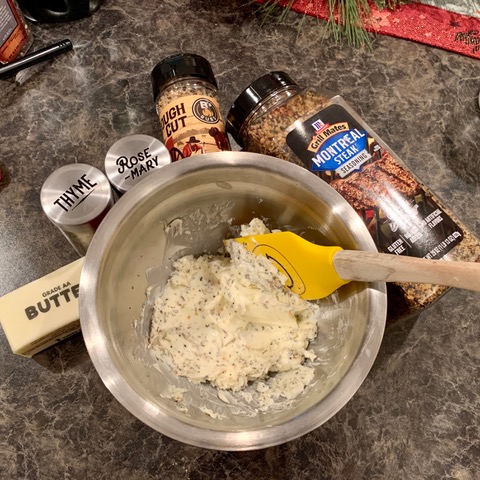 Step 3: Cover the roast in the butter
Cover the roast in the compound butter with a spatula.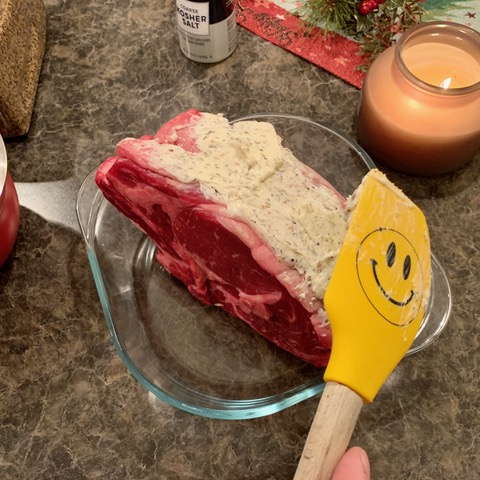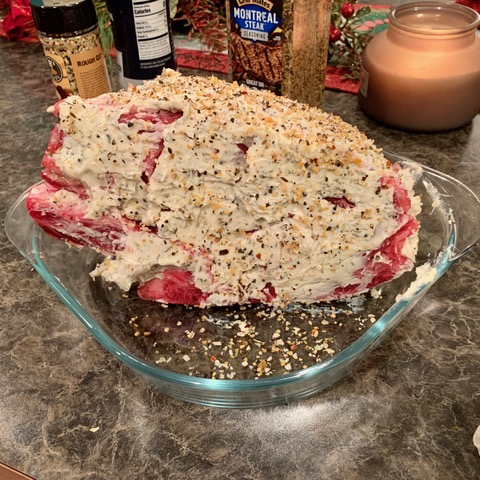 Step 4: Heat oven to 500 degrees
Heat up your oven to 500 degrees. Get ready for some easy math to get your initial sear time.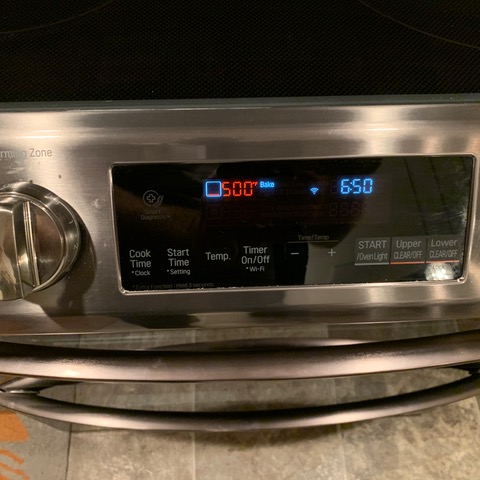 Step 5: Calculate your initial sear
Multiply the weight of your rib roast by 5. In this case, we had a 4 pound prime rib times 5. 4×5=20 minutes. Round up to the nearest minute and get the rib roast in the oven for that sear time
Step 6: Shut off oven and wait for 2 hours
That's it! Don't open the oven. Don't even look at it. Just set a timer for two hours and relax. Then get ready to enjoy your perfect medium rare prime rib when it's ready after two hours.